CNC System Development Platform
CNC System Development Platform
Googoltech's CNC system development platform is composed of open, reconfigurable hardware platform and software platform. The development platform is based on WINCE operating system to meet the real-time, security and stability requirements of CNC system. Aiming at machine tool manufacturers, system integrators and research institutes in universities, the platform adopts a redevelop able system architecture to provide customized process solutions for customers.
CNC system development platform supports machining codes generated by UG, MasterCam, AutoCAD and other CAD/CAM software. It has been widely used in engraving and milling machine, precision engraving machine, drilling and drilling center, highlight machine and machining center.
● The platform is open, supporting the two development of technology and interface.
● Platform function modularization, can be configured through parameters.
● Customers can customize the processing code and movement to complete the specified function.
● The controller can support both CNC and loading and unloading manipulator control, and has the function of anti-collision protection in safety zone.
● Intelligent networking and Tuning debugging function.
● Support 5 axis interpolation and RTCP function.
● It has probe capture, detection of work piece contour and compensation function.
● PLC and macro functions.
● It has the function of tool path simulation and real-time processing path display.
● It has the functions of tool length compensation, radius compensation and tool life management.
● Has pitch error compensation, reverse clearance compensation, friction compensation and vibration suppression, trajectory optimization functions
● It has the functions of hand wheel guided processing, breakpoint processing and jumping processing.
● Support for synchronous control
● Support linear grating, linear motor and absolute encoder control.
● Can be combined with CCD camera for visual positioning processing function.
Related Products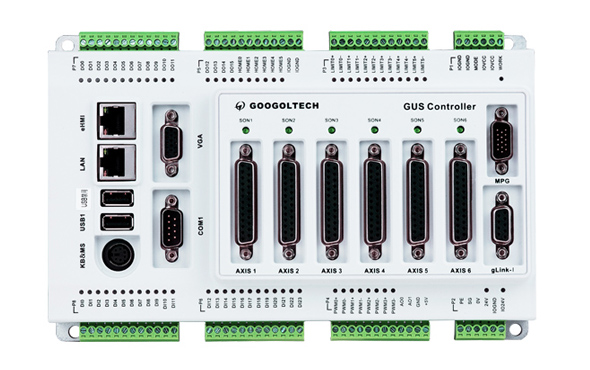 A highly integrated motion controller coming with the functions of co...
Read More
×
Customer feedback
*is required information